Jobs at Hortic Express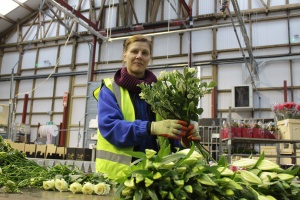 Production Supervisor
(Cut Flowers & Plants)

An exciting and rare opportunity has arisen within our rapidly growing company for a
PRODUCTION SUPERVISOR.
• Are you able to produce a hand-tied bouquet?
• Do you have experience in the world of Cut Flowers and Horticulture?
• Are you able to cope with the stresses of a fast moving organisation?
• Do you possess a meticulous attention to detail?
• Can you speak confidently on the telephone with both suppliers and customers?
• Can you demonstrate an ability to work under your own initiative and meet tight deadlines?
• Can you work as part of a small team and show the ability to multi-task?
We are actively on the lookout for all of the above and more!

The perfect candidate will have experience of working alongside any of the major high street or on-line retailers.
There will be early mornings and late nights, from time to time, so a flexible approach to working is essential. Candidates must have above average working knowledge of PC's, e.mail, the internet, Microsoft Office and in particular Excel spreadsheets. Your level of understanding will be assessed as part of the application process.
This role will be based at the company's Donington production facility. Our business operates to meet customer orders, so a flexible approach and commitment to working as the business need dictates is essential – especially at peak trading periods. You will be the kind of individual that embraces change and is willing to learn new skills.
Applications from individuals seeking either full time or part time working will be considered equally.
In return for all your hard work, there is a fantastic scope for development within the business and a negotiable remuneration package.
If you feel that you have the skills we are seeking, please forward your CV to office@horticexpress.co.uk for the attention of Catherine Nicholl-Smith.
Hortic Express is an equal opportunities employer.
STRICTLY NO AGENCIES